School minibuses
The 3.5ton, Minibus Lite 16-Seat School Minibus that does not require an additional driving test pass for every teacher driver* who passed their car driving test on or after 1 January 1997? . . .
Based on a Peugeot Boxer Lite 16-seat chassis, the Pembridge Vehicle Management Minibus Lite is a 16-Seat School Minibus (inc driver) weighing under 3.5 tonnes.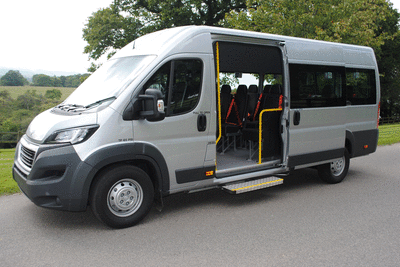 *This means that any teacher can drive the Peugeot Boxer Lite Minibus on a standard Category B licence without any requirements to pass a Category D1 test providing the following conditions are met:
the driver has held a Category B licence for at least 2 years
the driver is over 21 years old
the driver receives no payment or consideration for driving the vehicle other than out-of-pocket expenses
the minibus has a gross weight not exceeding 3.5 tonnes (4.25 tonnes including any specialised equipment for the carriage of disabled passengers).
Just think of the money and time you will save:
- No more training and driving tests for your teachers
- No more inconvenience to arrange and pay for supply teacher cover whilst the training and testing takes place.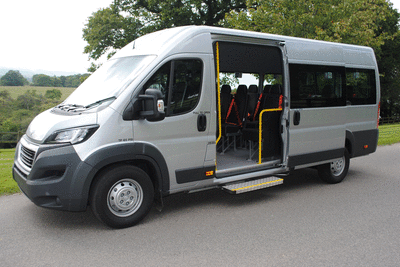 SPECIAL FEATURES include:
2.2 turbo diesel 130ps euro 6 engine
Remote central locking
6 speed gear box
Electric brake force distribution
Electric heated mirrors
Electric windows
Opening side windows
Tinted glass Radio and cd player
Driver and twin front passenger seat
36 months warranty, subject to terms and conditions available upon request
24,000 mile service intervals
ABS
Driver's air-bag
13 M2 tested seats
All age adjustable 3pt belts
Non-slip flooring
Fully lined, trimmed interior with two shades of soft cord carpet
Fully tested flooring system
Seat belt anchorages tested to ECC Directive 76/115
LED lights to all entrance/exits
Electric side entrance passenger step
Emergency exits through roof glass and side window with glass break hammers
Grab handle to front passenger entrance
Vertical left hand entrance handrail to side load door with right hand courtesy panel
Reverse Alarm
First aid kit and fire extinguisher
Legal signs with yellow vinyl school bus sign
Vehicle Dimension Plate
Vehicle Layouts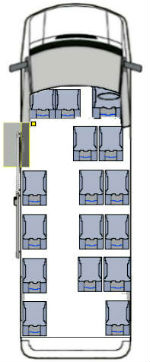 Deluxe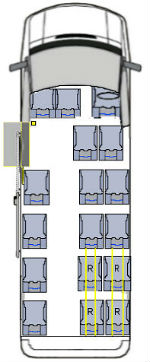 Wheelchair Deluxe
Wheelchair Access & Safety Equipment
Whilst all Minibus Lite models in the range are supplied with M2 Tested Seats, the Wheelchair Accessible models allow for some of these seats to be removed to accommodate one wheelchair passenger.
Attaching secure equipment fastenings ensures the safety of the wheelchair and its occupant whilst in the minibus.
To meet varying needs and budgets, each of the two wheelchair accessible models is fitted with different access equipment:
the Wheelchair Deluxe has telecopic ramps
the Wheelchair Excel has a Ricon Clearway S2030 inborad passenger lift, which is also suitable for passengers with mobility issues not requiring a wheelchair
The Excel model with the Ricon lift is also fitted with the latest Innotrax flooring.
One of our specialists will be happy to advise you on your options. Call us on 01633 485858 or use our website contact form.
Contract Hire - A Popular Way to Acquire an Peugeot Boxer Lite
Contract Hire provides an ideal solution for organisations who do not want the financial risk and administrative burden of buying, running, servicing and disposing of their own minibus(es).
Based upon an agreed annual mileage, Monthly fixed contract hire payments will always take care of the following:
Cost of vehicle funding
Cost of vehicle depreciation
Road Fund Licence
Against increased rental payments, the contract hire can also include all maintenance, service, repairs, tyres and batteries; AA Fleet Europe or similar service; and a relief vehicle in the event of a breakdown.
To find out more, call one of our team on 01633 485858 or use our Contact Form. You may prefer to visit our Contract Hire page to learn more about the benefits. Example figures for the contract hire of a Minibus Lite are also on this page.
All finance is offered subject to status.
*Whilst every care has been taken in providing information relating to the legal licencing requirements for minibus drivers, we recommend that you make the necessary checks with the DVLA, VOSA and any and all Government authorities to ensure that each of your drivers meets the necessary conditions to permit them to drive this or any other minibus for your organisation PRIOR TO MAKING ANY PURCHASE DECISION. Pembridge Vehicle Management Ltd, its employees and agents does not advise on legal requirements for or the suitability of any person to drive a minibus, and is not responsible for any of your decisions concerning vehicle and driver suitability and any consequences arising out of those decisions.