We are proud of how our Minibus clients see us....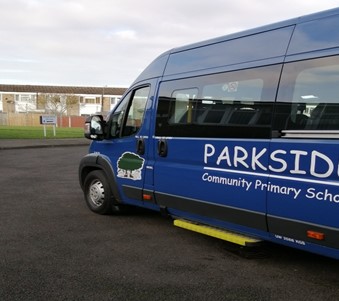 When the school were looking to purchase a minibus we spent a long time looking for the best option for the school. Then we found Graham and his company. They were so helpful and accommodating of our needs answering any queries or questions to make sure that all was sorted for us to take delivery of the bus. Nothing was too much hassle from the initial enquiries, to the delivery and the after service. I have always found Graham approachable and able to answer the questions that I had. The biggest thanks should come in your willingness to deliver the bus in person to us in Canterbury free of charge. I know this made it a long day for you and thank you doesn't seem enough. The quality of the vehicle and signage on it was amazing. Many people comment on the minibus and how it looks brand new, despite being 6 years old. This is testament to how well the bus is looked after and the finished product that is presented to the client.

Following delivery Graham has made sure that we are still looked after and continues to support with any issues or queries that we may have had. The customer service the school has received it amazing and I cannot recommend this enough to anyone that is needing to purchase a minibus.
Mrs Anthea McLevy, Head of School
---

You made it easy for us to decide where to buy our new minibus. You were welcoming, hospitable and showed us how we could get the most for our money. The other dealer we approached just wanted to sell us the most expensive new vehicle.

With your help, we realised that a nearly new wheelchair accessible minibus would provide us with everything we wanted at a significant saving. The used roofrack you acquired and fitted for us is invaluable when taking fifteen passengers on holiday.

The best outcome is that we can now take those in need on holiday to our property in the Lake District or on trips to Talbot House and the war graves in Belgium. Other charities and groups in our area will also benefit, as we will allow them to hire our minibus as reduced rates.

Our experience of your company echoes that of your other customers whose testimonials we read before contacting you. You may be across the other side of the country from us yet you offer a service beyond anything we could have expected from a local dealer. A very big thank you.
Andy Hodgkinson, Board Trustee & Member, Toc H Barnsley
---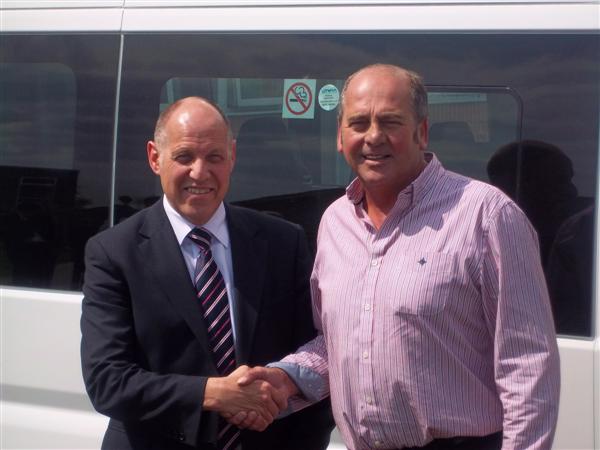 Our new 3.5t EasyDrive 17-seat lightweight minibus will save us much time and give us even more flexibility for travel arrangements. With only a few PE teachers holding Category D1 licences, organising trips for sports teams has been a real juggling act for some time. Every time another one of our D1 category teachers retires, it just adds to the problem.

The EasyDrive will change that for good. Our Academy will also save the increasing cost and inconvenience from hiring minibuses that most of our teachers can drive or larger minibuses complete with a qualified driver.

We have been delighted with the minibuses you supply and your first class, personal service. The delivery of our new Easydrive will add to this by removing some of the organisational headaches from me and enable our PE teachers to more readily arrange fixtures for our sports teams. Happy faces all round!.
Steve Ellis, Deputy Head Teacher
Chellaston Academy, Derby
---

When we were unsure which minibus would best suit our needs, you kindly brought two options to our school for us to test drive. This echoed the willingness to help and advise which we experienced from our first phone call to you. Throughout our dealings, we found you to offer a level of customer service that places you in the top tier of all companies, not just minibus suppliers.

Our choice of an EasyDrive minibus is everything and more than we expected. Our teachers find it effortless to drive compared to other minibuses we have owned and all can drive it without the need for a D1 licence. They also say the tail lift is much lighter and so easier to operate than on previous vehicles. Best of all, our children prefer it for school trips and they are the people who really count.

You were not the only minibus dealer we contacted this time. You will be the first we contact next time we need a minibus because your service is simply outstanding!
Keith Lawrence, Chair of Governers, Culverhill School, Yate
---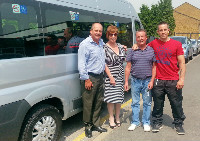 It has been a real pleasure dealing with you from the moment we first got in touch. You are professional, reliable and we enjoyed your good sense of humour. We now have more options with our new EasyDrive minibus. More teachers can drive it on their car licences and the wheelchair access caters to the needs of all our children. We are delighted!
Eileen Mullarkey, Headteacher
St Michael & St Martin Catholic Primary School, Hounslow
---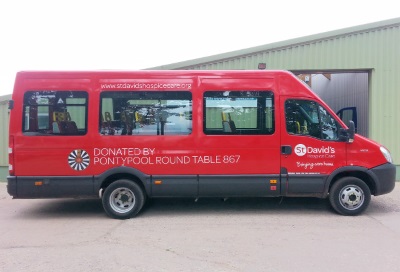 Thanks to a generous donation from Pontypool Round Table we were able to buy a used minibus for our patients. We had to assure them the funds they had raised would be spent wisely, particularly as we did not have enough budget to buy new. Your customer-friendly approach quickly put our donor at ease and stopped us from stressing.

By listening to our needs, you helped us choose a low mileage vehicle with low level steps, handrails and wheelchair lifts so it's suitable for all our patients. You did everything in a timely manner and the great service you provided before we purchased has continued since. It surprised me how painless it was as we just sat back while you sorted it all out. Please accept a big 'thank you' on behalf of everyone here.
Gillian Tanner, Senior Manager
Family Support and Day Hospice Teams
St David's Foundation Hospice Care, Newport
---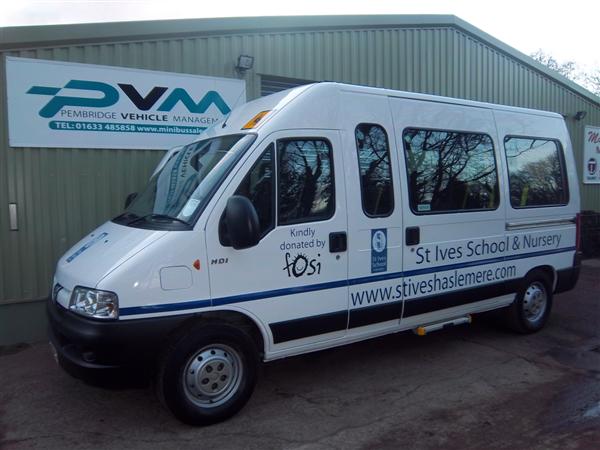 We have Google to thank for leading us to your company but, much more, you to thank for supplying us with a great minibus wih an unsurpassed level of service. Your website testimonials really do reflect how Pembridge Vehicle Management serves its customers and they convinced us we had found the best minibus supplier to help us.

At all times, we were greeted by your cheerful, patient manner no matter how many questions we asked. Even after we chose our minibus from the pictures you emailed, you brought the minibus to the school so we could see it before signing on the dotted line. Your offer to allow a local garage to first inspect it just reinforced our belief in you and your company.

The arrival of this our second minibus now means we do not have logistical nightmares when trying to accommodate matches, swim runs and outings. You saw the excitement from the children when you delivered it as they know this means they can attend more events.

When one hears of so many companies who underwhelm their customers, we are delighted to have found you and your business as you totally embrace the very best in customer service. Our school does not often provide testimonials but, such is the way you have looked after us, we can not recommend you highly enough.
Mrs Lesley Shaikh, Head
St Ives School for Girls, Haslemere
---
I do not think I will be buying a replacement vehicle for some time because the LDV Maxus you sold us last December has been excellent, everyone who drives it is very pleased, it has lots of power so I am glad that there is a speed limiter fitted.

It has travelled around the Outer Hebrides this summer plus many other trips and we have not had the slightest problem, and it still looks like a new bus despite now being four years old.
Geoff Powell, Group Scout Leader
Rhos on Sea Scout Group, Colwyn Bay
---
To say we are delighted with our latest minibus is an understatement. Although it is a used vehicle, our teachers prefer to drive it over the new one we bought a year ago. The engine drives like a dream just as you promised.

It was a pleasure to deal with your company. I think what surprised me most was the immaculate condition of the minibus and your up-front, honest approach to customer service. You made it better again by fixing a couple of small issues we would not have noticed. It is the first time I have come across a used vehicle dealer telling a customer what needs to be sorted.

Now we have two minibuses we can take whole classes on school trips without the cost of hiring a second vehicle. Especially pleasing is that we can take all our children using the wheelchair access facilities on your minibus.

Thank you for looking after us so well. We will be in touch again when we need another minibus. There will be no need to turn to Google when we can call Graham!
Paul Samuel, Head Teacher
St James Primary School, Caerphilly
---
I was amazed when you offered to visit us and let us decide after a test drive. Your openness and excellent service at all times has been a truly refreshing change.
Garym Roberts Manager, Students Union, University of Wales Lampeter
---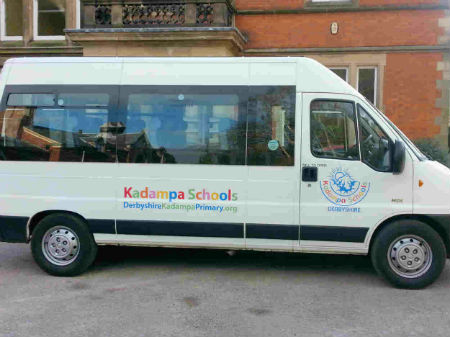 We chose to buy our first minibus from you because your company was very friendly, offered practical advice and were quick to reply to our questions. You were even kind enough to drive our first choice minibus to our school for us to inspect. It was exactly as you had described on the phone and, from our market research, we know you offered it to us at a great price.

In between bringing it back to us for a second time, you gave the minibus a major service, an MOT and had our lovely school graphics put on the minibus. Our pupils have already enjoyed their first trips and we are advertising our new school everywhere we go. Thank you for all your help. You will be hearing from us again when we need another minibus.
Miss Winny, Admin Director
Kadampa Primary School, Derbyshire
---
I found your company on the internet when our previous supplier could not locate a used Peugeot Boxer minibus to replace one written off in an accident. We urgently needed the minibus to transport students for a planned weekend at our outdoor pursuit centre in Wales.

When I phoned, you were very welcoming and could not have been more helpful. The exact model we wanted was due into your stock within a couple of weeks of my call and you offered to drive it to Orpington for me to view before we purchased.

Then our best laid plans slightly fell apart and your supreme customer service rose to the surface. When the minibus we wanted was not delivered to you on time, you bent over backwards to ensure we could go ahead with the trip by loaning a minibus and driving it to us in Kent at your expense.

Unfortunately there was to be a further delay on the bus delivery so whilst down in Wales Graham swapped the loan bus for another newer bus until our new one became available. As soon as our minibus came into stock, you delivered it to our outward pursuit centre and swapped buses. I was delighted with the new bus. It's in absolutely pristine condition and with the mileage as quoted, just as you promised.

With the excellent customer service I have received I would have no hesitation in recommending you; I have learnt that your word is your bond and everything you promised has come true. From my experience, this is quite unique in the motor trade. I won't be searching online when we need another minibus as I will only be phoning one number. Yours!

Thanks again for the outstanding service ~ one that goes beyond the call of duty! and was very much appreciated.
Doreen Stokes, Finance
The Priory School, Orpington
---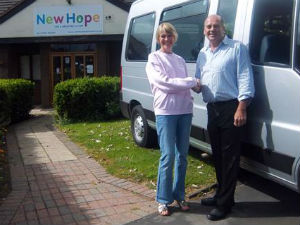 Having made several attempts before we successfully secured Lottery funding, we needed to be certain we invested wisely in our first minibus. We had a few hiccups along the way and then we found your company.

When I discovered your website on Google I was struck by the many good words your customers have to say about you, including one from my local university. It just felt as though I had arrived at the right place to buy our minibus.

Unlike other minibus firms we contacted, your website photos are of the actual minibuses you have for sale. This made it so much easier for us to decide on the right vehicle for our needs.

Even after we selected a low mileage model, your honesty really shone through when you insisted we see the minibus before committing to buy. It came as no surprise to find the condition was even better than you had described and it drove beautifully on our test drive. After we decided to buy, it was serviced and delivered it to us in no time at all.

Unlike so many other suppliers we deal with, you quickly do everything you say you will do when you say you will do it. You are completely genuine, a pleasure to deal with and provide a terrific service at a competitive price. We could not be more happy with our minibus and how you looked after us.
Jean Wilson, Founder
NewHope Daytime Respite Care for Children with Disabilities
Worcester
---
Whereas we like to think we have some idea what to look for when buying a used car buying a minibus was more of an unknown quantity.

After contacting various dealers and getting a number of quotes, we found your prices were very competitive. We did wonder if we were sacrificing on the quality of the vehicles. However, I am happy to say these worries disappeared when we visited your showroom.

The two vehicles we ordered were of the high quality we required along with top class customer service, at the competitive price quoted. Because the vehicles and service were so good, we had no hesitation in ordering another two minibuses from you shortly afterwards. They are equally as good as the first two.

Since then, we have benefitted from your refurbishment skills when one of our existing vehicles seating was damaged by vandalism.

Thank you for keeping to the promises you made, your promptness and the courtesy you showed to me and other College personnel.

Please feel free to contact us if you ever need a reference for your company. We would be more than happy to provide one.
Alun Griffiths, Procurement Officer, Bridgend College
---

Your interest, knowledge and passion to make sure we bought the right vehicle for our needs made you stand head and shoulders above a local dealer. It quickly became clear to us that our custom was truly valued and we were not just another sale for you. Having previously hired vehicles, this was so important as we were buying our first school minibus.

We now have a beautifully signwritten 15-seater of which the whole school can be proud. We are ready for any school trip (or expedition) with the roof rack, ladder and towbar accessories and the all-round parking sensors will help keep our minibus in pristine condition!

Whilst our minibus has been a dream since you delivered it, you even contacted us after a couple of weeks to check everything was as we expected. That really was a pleasant surprise, yet a true reflection of your attention to great customer service.

We are pleased we chose PVM. Not only will we buy from you again, we will be recommending your company to other schools.
Derek Fargher, Financial Controller
Bradfield College, Reading
---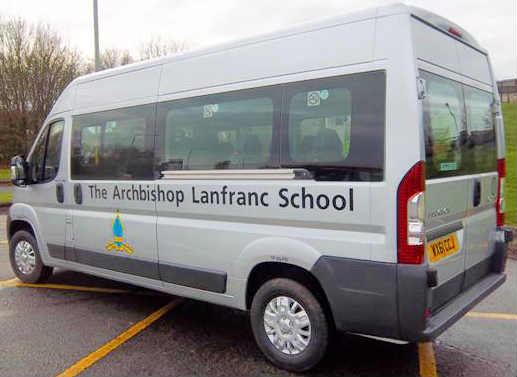 From our initial contact two years ago, I have been extremely happy with the levels of communication, assistance and professionalism shown by all at PVM.

Grahams warm, friendly and helpful service has been so greatly appreciated that we were happy to place an order for a second minibus this year, and once again the organisation of this - which first time around I had worried would be onerous and time consuming - was smooth and problem free. I would happily recommend PVM. to anyone who needs such a service.
Niven Matlock, P.E. Facilities Manager
The Archbishop Lanfranc School, Croydon
---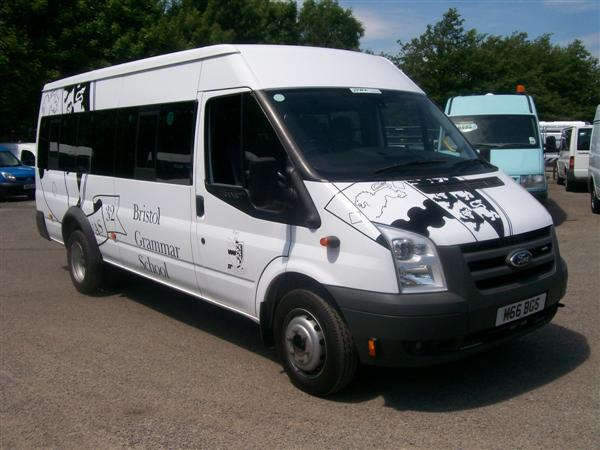 I was attracted to your company as your website clearly shows the importance you place on customer service. Two other companies I contacted also purported to offer a high quality service but PVM was the only one that actually delivered on its promise through your speed and accuracy of response.

Working together with Graham we found the right vehicles for our purpose and budget. I really appreciated the recommendation to buy all Ford vehicles and your market knowledge, which allowed us to extend our budget by choosing models manufactured in higher volume that were more readily available. Whether it was vehicle sourcing, arranging vehicle graphics, the acquisition and fitting of personalised number plates or organising delivery, you solved all of our problems and offered us a great deal – a real packaged solution to all our needs.

The whole school is really pleased with the low mileage, five vehicle fleet you helped us assemble. On a recent field trip for the Duke of Edinburgh Awards Programme, our teachers were pleased to receive favourable comments about our minibuses from colleagues from other schools with the BGS eye-catching graphics and personalised registration plates.

You did not just deliver great customer service at all times, Graham. You over delivered. I expect to receive high levels of customer service from all our suppliers and wanted to let you know that your company is right at the very top of the scale.
Jeff Berry, Bursar, Bristol Grammar School
---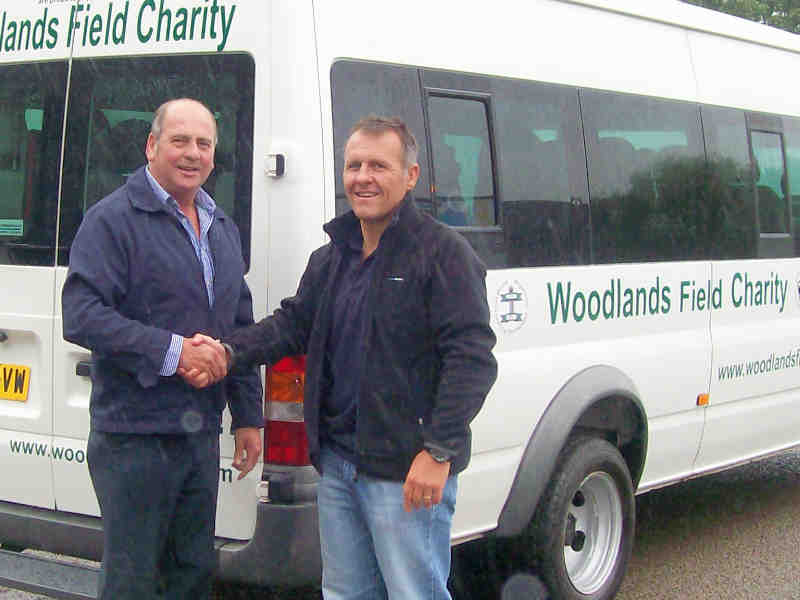 I already knew of your company and its excellent reputation from speaking to other minibus owners in our area. So when the time came to replace our minibus, you were already on the shortlist of potential suppliers. I have to say that your attentive service more than justified the high billing and is so much better than the complacency we had been receiving from our previous vehicle and service provider.

It was not until after we bought our new minibus that it dawned on me that you had not sold it to us. You just provided first class advice and knowledge to help us decide on the best vehicle for our needs and budget. We came away with a great deal including vehicle graphics and a maintenance package, all delivered in double quick time. We are delighted with everything.
Kevin Weaver, Centre Manager, Woodlands Field Ltd, Pontypool
---
I searched the internet when we needed to replace our old minibus and your website really caught my eye. The good feeling I had about PVM was confirmed within the first couple of minutes of our first phone call. You instantly set aside my preconceptions and worries about dealing with the commonly held vision of used vehicle salespeople.

You put me completely at ease with your open, honest and professional approach. Having found a great minibus for our school, the deal clincher was your willingness to bring the vehicle to our school for me to see before confirming the order. Your company far exceeded my expectations in all respects, so I'm more than happy to pass on your details to others.
Don Round, Head Teacher, Woodside Primary School, Goffs Oak, Herts
---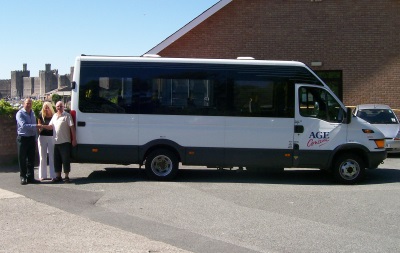 I have often wondered if website testimonials are real or made up. Your website persuaded us to get in contact with you and, when I visited your company with colleagues, I immediately knew that all your testimonials are absolutely true.

Thank you for making us so very welcome and taking the time to help us select an ideal wheelchair accessible minibus from your vast stock to suit our budget and needs. You kept all your promises, delivered the signwritten minibus to North Wales in no time at all and have been equally attentive to our after sales enquiries. We really could not ask for more.
John Clifford Jones, Chief Officer, Age Concern Gwynedd
---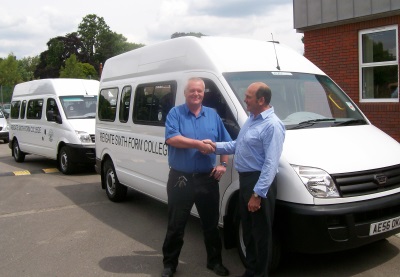 PVM helped me to find the right minibuses rather than give me the hard sell. They accommodated our needs and ensured we got the best value for our very tight budget. Graham, I found you offered all the qualities I would expect from a local business even though you're 150 miles away from us.
I also discovered another local school who could not speak highly enough of the service they received from you. You can add my name to that list – it's been a pleasure to deal with you.
Garry Holmes, Estate Manager, Reigate College, Surrey
---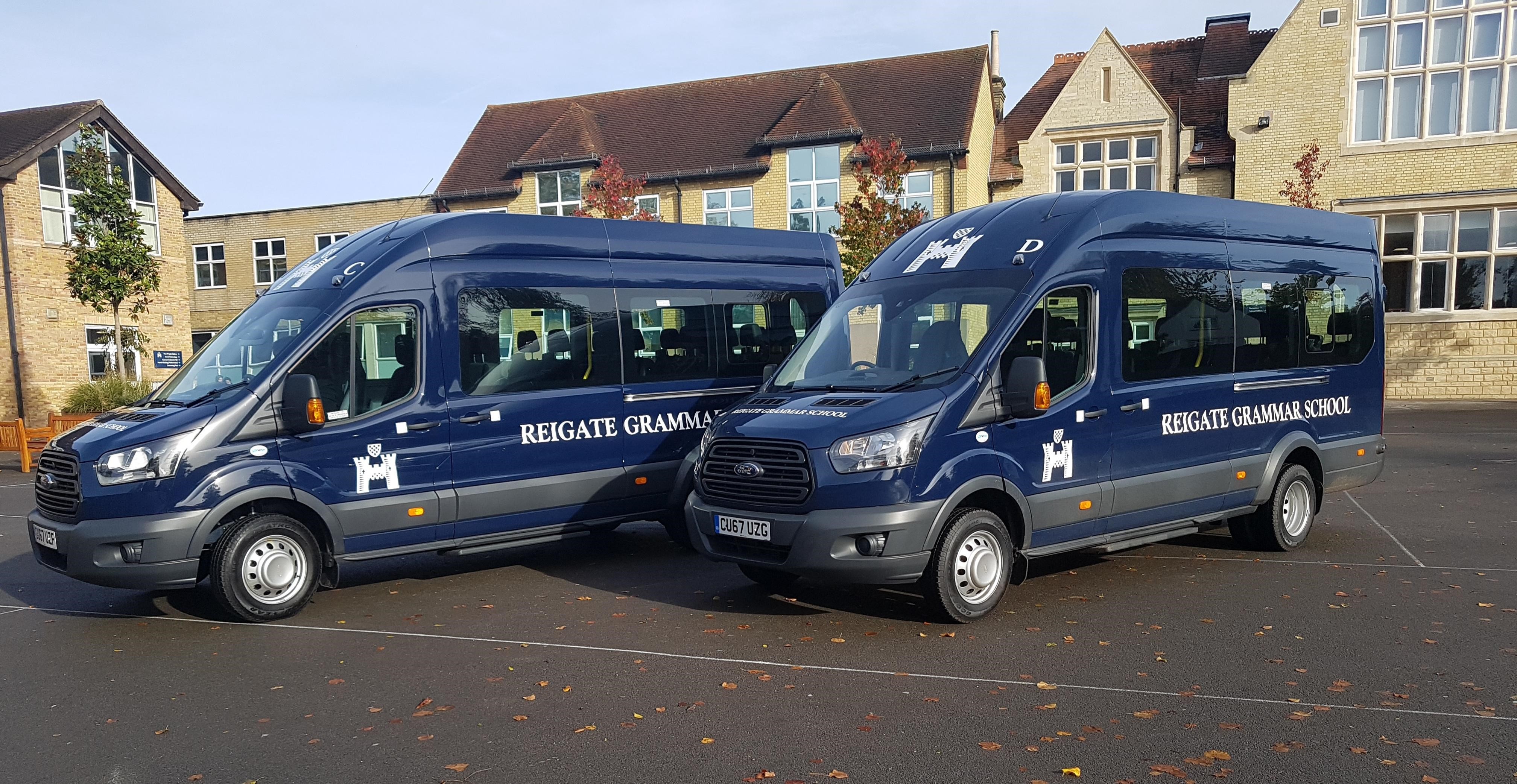 Thanks once again for your superb service. You're always quick to respond to our requests and make the whole buying process so easy. So when we were looking for our second pair of minibuses we only had one supplier in mind – you!
Our minibuses take our 11-18 year old pupils all over the UK and, in PVM, I also know that we have a reliable partner which excels in after sales service should we need it. That's why I recommended you to a local college.
Fred George, Facilities Manager, Reigate Grammar School
---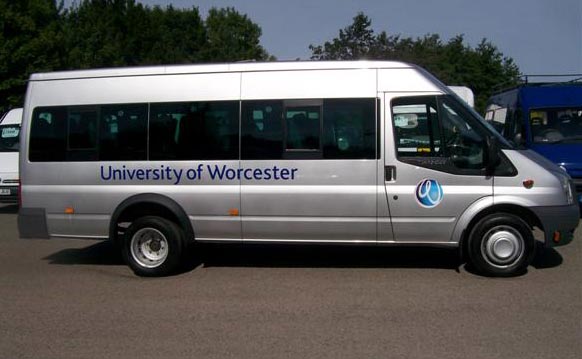 Buying a used minibus was a new experience for both the University and me, as we've only bought new vehicles before. Luckily, I found your company via a web search and the process of locating and purchasing our latest minibus went like a dream. The vehicle was even better than you described, the viewing and subsequent delivery was arranged in double-quick time and the vehicle graphics look spot on. In fact, the whole process exceeded my expectations.

Graham, your knowledge and service were genuinely first class and your prices competitive. We'll be contacting you again when we need another minibus.
Tom Taylor, Head of Security & Campus Services, University of Worcester
---
We recently bought a secondhand minibus from PVM that needed a number of significant adaptions to make it suitable for non-ambulant pupils. The initial advice and service provided was first class and the subsequent after-sales service can only be described as excellent.
Every promise that has been made to us has been kept. I certainly have, based upon our experience, no hesitation whatsoever in commending their services.
Chris Major MBE, Headteacher, Heronsbridge School, Bridgend
---