We are proud of how our Motability and WAV clients see us....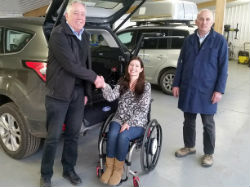 Every time we're in contact or I visit you make me feel as though I am your most important customer. I'm sure this is how you treat everyone yet it's so rare to find such service these days.
Your company is a happy team of remarkable people who work together in perfect harmony. Professional, caring and with my best interests at heart. Your genuine empathy and compassion for my needs and was clearly evident in the time you took to listen to me and observe my needs. I'm sure that's why my car adaptations and hoist are a perfect match for me.
As a result, I am no longer isolated and can go out with the assistance of family or carers. This gives me a level of independence together with renewed self-worth and confidence. I can once again enjoy life's experiences, which brings me a great deal of joy.
It's a privilege for me to know all of you and your company. Thank you for making the world a better place through your outstanding service, kindness and consideration.
Allison Collins, Chepstow
---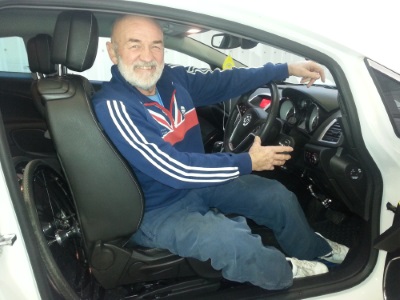 From the moment we first spoke on the phone, you have made me feel special as a customer. This is such a welcome change as some other dealers have made me feel like an inconvenience.

I wish I had found you years ago. All of your team was knowledgeable, considerate and committed to help me get the right hand controls for me. As a result, you fitted my preferred controls, not the easy option of the usual standard model. This makes so much difference to my driving experience.

I am delighted with every aspect of dealing with you. Clearly, you care about giving me the best equipment and service for my needs. You sorted everything as quickly as possible and with a smile. I will be letting everyone I know of your first class service. Businesses like yours that really look after their customers deserve to thrive.
John Harris, Paralympian & Motivational Speaker
---
Michele Griffiths, Torfaen MS Society
---
Motability gave me a list of their dealers when I needed to upgrade my car to one that could accommodate my wheelchair-bound husband. I contacted you and from that first call you made everything so simple.

You always visited us to save us travelling to you. First to discuss our options, then show us a demonstrator and lastly to deliver our wheelchair vehicle. The biggest surprise of all is that the wheelchair vehicle is the same monthly Motability payment as my previous car. We fully expected to pay extra.

When the vehicle needed a warranty repair it had to be taken to the main dealer in Bristol. You found out and volunteered to collect it and return it to our house. All free of charge. Nobody I know has ever heard of this level of service from a motor dealer.

Your service is so good that even the people at Motability were astounded when I told them how well you looked after us. Your team is always professional, friendly and happy to go the extra mile. You will always be welcome to call in for a cup of tea if you are passing by.
Pam Challoner, Chepstow
---
When I needed and extra rear passenger seat fitted to my vehicle, Motability put me in touch with you. It amazed me that you instantly remembered who I was ​al​though we had not spoken for several years. You made me feel special. The following service you gave me reinforced that feeling.

Everything you did was top notch service. You kept in touch until ​a matching​ seat ​was delivered and arranged a fitting date to suit me. You even dropped us off at a local shopping centre so we could do some shopping while you carried out the work. All done for a competitive price and always with a smile. You remembered me and I will remember you to everyone I know who can use your services. Thank you.
Lee Blomfield, Brecon
---