Winners Everywhere at the 1st Karate Wales Open Championships
Date Posted: 01 June 2015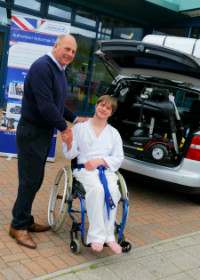 Winners Everywhere at the 1st Karate Wales Open Championships
A full day of karate competition saw over 500 competitors enter 67 different sections at the 1st Karate Wales Open Championships. 600 spectators watched and cheered the action throughout the event.

Pembridge Vehicle Management were delighted to be involved, sponsoring three Special Needs and Wheelchair sections. Each of the three winners received a trophy to recognise their achievement.

This first Karate Wales Open Championships was a resounding success. Competition organiser Lee Costa was thrilled by the response from competitors, spectators and sponsors.

Costa says, "Our whole team pulled together to produce a well-organised event. We attracted competitors from far and wide, and everyone went away happy. None of this could have happened without the support of generous sponsors like Pembridge Vehicle Management."

It comes as no surprise to learn the 2nd Karate Wales Open Championships is already on the calendar for 2016. The organisers expect more competitors and visitors for what is sure to become an annual event.